What to expect from a dental visit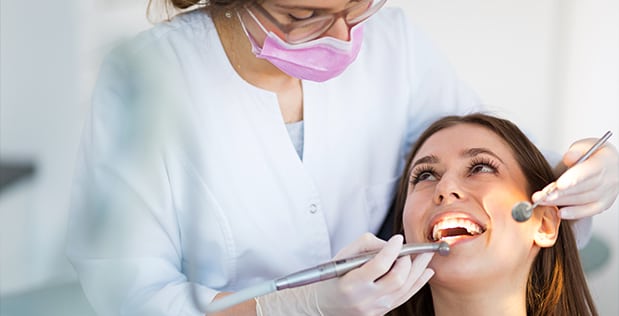 Your Dental Visit at Wahroonga Family Dental Care
Dental visits can make you feel fairly nervous, especially if it's the first time you are going for one. Many people, including adults, do not see their dentist regularly enough, because they never feel the need to go or are simply too afraid.
It is recommended that you visit your dentist at least once every 6 months for a regular examination and cleaning. This will help keep your teeth, gums, and mouth clean and healthy and will also help you avoid any dental problems which could worsen if left untreated.
If you have decided to visit a dentist but are still nervous about the appointment, check out our list of what you can expect from your dental visit.
What Can I Expect from My Dental Visit?
The first step in this process is to find a dentist you can trust and who you are comfortable with. This will help ease your feelings of worry and stress and make the appointment go smoother. You may need to speak to a few dentists and patients before deciding, but this research can help you pick someone trustworthy.
In our blog post, How to Prepare for a Dental Check-up, we mentioned what you can do to prepare for the visit, and by following these steps, you can keep yourself cool, calm, relaxed before the actual appointment.
If you're still worried about the actual appointment, here's some more information of what to expect:
Paperwork: Your first visit means that the dentist knows little to nothing about you, your teeth, and oral hygiene. You will be required to complete some paperwork regarding personal information, payment details, and dental records. Make sure you find out what documents they may need from you beforehand, so you can take it with.
Initial check-up: The first appointment is usually a regular consultation involving a regular check-up and discussion. The only time a dentist will deviate from this is if you have a serious dental problem and require immediate care and treatment. The dentist will ask you questions about your health (past and current), any procedures you may have had, allergies, medications you are on, etc. This will help them better treat you and will help with identifying any problems. It is important that you are totally honest with your dentist as this information can help him give you the best treatment possible and will help prevent any misdiagnoses and mishaps from occurring. For example, if you are diabetic you will be more susceptible to developing gum disease and your dentist should know this, so he can help you.
Examination: The dentist (or dental hygienist) will perform a thorough examination of your teeth, gums, and mouth checking for any damage (chips or cracks), decay (cavities, gum disease, etc.) or any other problems, potential problems or abnormalities. This is fairly simple and generally takes around 20 – 30 minutes to complete. He will also examine your face, neck, and jaw for any abnormalities which could be indicative of a more serious problem.
Cleaning: Using special instruments, the dentist (or dental hygienist) will perform a thorough cleaning of your teeth and gums. They will use a scraper to gently scrape below the gumline and even between teeth to remove the dirt and built up plaque and tartar. They will then perform a professional brushing using an electric toothbrush, and even floss for you. Finally, you will be asked to rinse out your mouth with a mouthwash containing fluoride and apply a fluoride treatment to your teeth to help protect it.
X-rays: Your dentist may conduct an x-ray of your mouth to be help better evaluate the condition of your teeth. These are useful in helping the dentist identify problems that are invisible to the naked eye such as compacted teeth, swelling, cysts, tumours, etc.
Oral cancer screenings: As mentioned above, the dentist will examine your face, neck, and jaw looking for any abnormalities, which could indicate cancer. The dentist will exam the inside of your mouth checking for red or white patches and unexplained mouth sores. He will also examine the tissues of your mouth and even neck by gently touching and feeling for lumps or any other abnormalities. Theses screenings are important because if diagnosed early enough, oral cancer can successfully be treated.
Common dental procedures: In some cases, the dentist will recommend correcting a dental problem immediately in which case treatment begins during the initial consultation. These simple procedures include such as fillings.
Dental advice: The dentist will also ask you about your routine oral care and diet. They will explain how to properly care for your teeth by showing you proper brushing and flossing techniques and can recommend the right sort of products for you to use. They will also advise you on what foods you should include in your diet to help strengthen your teeth and what you should avoid to prevent problems such as plaque and tartar build-up and cavities.
Dental Visits at Wahroonga Family Dental Centre
Knowing what to expect during your first visit can help reassure you and soothe your feelings of nervousness because you will be better prepared for the appointment. Dental visits can be scary but once you've taken that first step and made an appointment, you'll be on your way to a healthier mouth and smile.
If you would like to learn more about dental visits and what to expect or would like to book an appointment, then call us on (02) 9489 2928 or complete the enquiry form on our Contact Us page.