Good oral hygiene is crucial while wearing a mask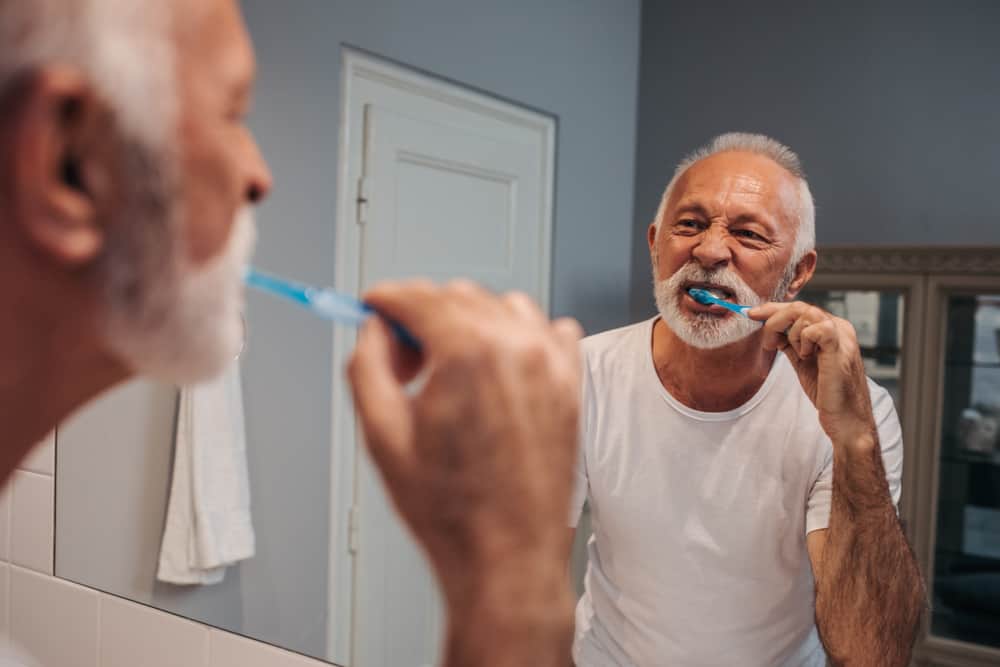 Many people are brushing their teeth less frequently during the pandemic, which could lead to decay and cause inflammation in the rest of the body.
In this time of fear and anxiety, it's understandable that people have other things on their mind besides brushing their teeth.
However, we're particularly concerned about people who neglect their oral hygiene during lockdowns – because prolonged mask wearing creates the perfect environment for decay-forming bacteria to thrive in your mouth.
Harmful bugs love the dry conditions that occur when our mouths produce less saliva, due to a tendency to take shallow breaths and drink less water while wearing a mask.
There's actually a term for it: mask mouth (dryness, bad breath and bleeding gums).
You must keep wearing your mask when out and about, as this helps to protect you from catching COVID-19 or spreading it to others.
This is vital.
But now more than ever, it's crucial to look after your dental hygiene by taking simple steps from home – so that plaque doesn't get a chance to build up while you're wearing a mask.
If you're diligent about your oral health routine, you won't have to worry about developing tooth decay during this time.
Research says that oral hygiene habits have worsened during the pandemic:
A recent study looks at the impact of face masks on oral hygiene habits, by analysing survey responses from 1346 participants.
Published in the Journal of Clinical and Experimental Dentistry, the results show that participants care less about their oral hygiene during the pandemic. For example, the number of people brushing their teeth only once a day increased by 126 percent during the mask-wearing period.
There was also a 71 percent increase in the number of people experiencing halitosis (bad breath), and an increase in the number of people with bruxism (teeth grinding – often associated with stress).
Nearly all participants (98 per cent) said they cared about oral hygiene before the pandemic, but this figure fell by 117 percent during the pandemic.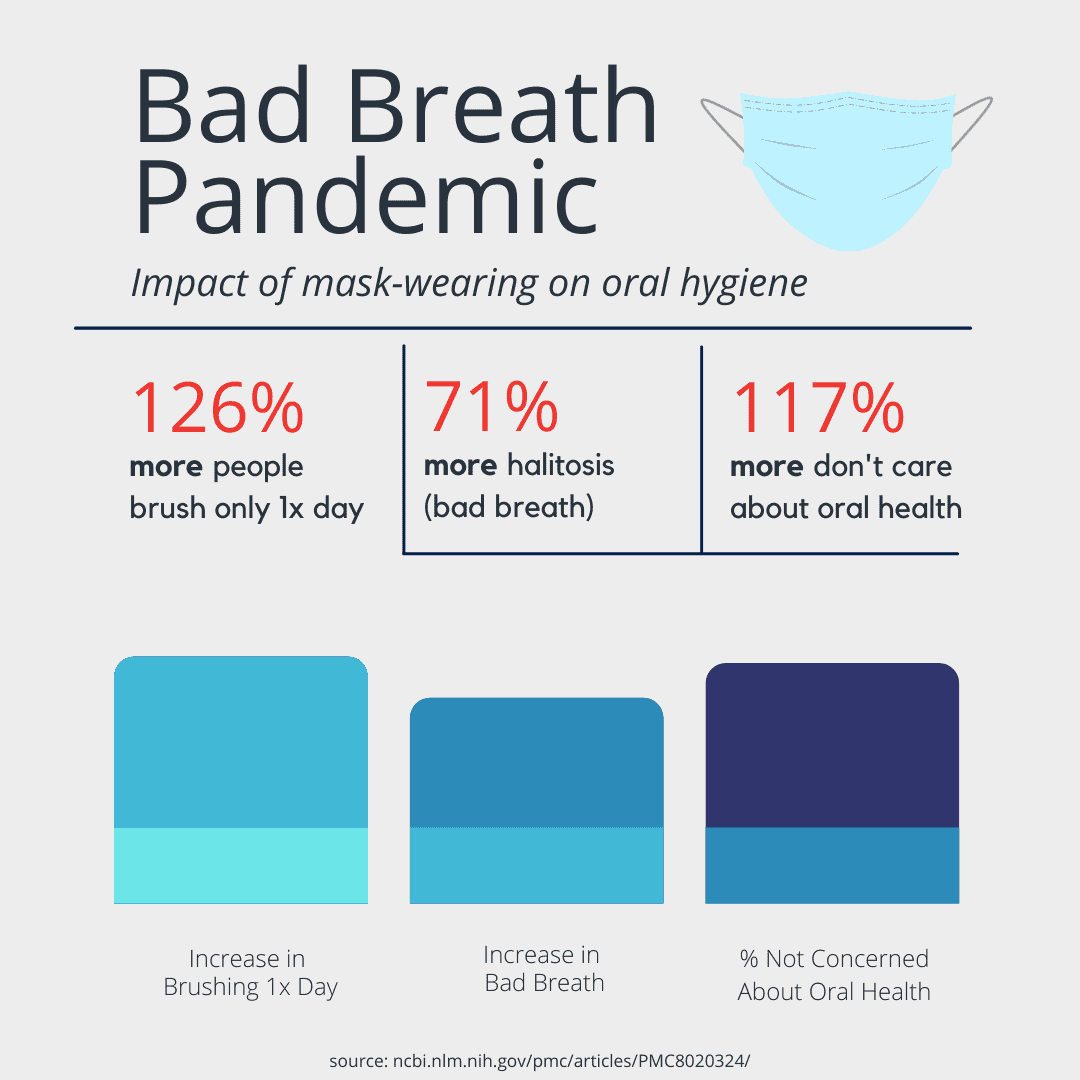 How to prevent "mask mouth" by looking after your oral hygiene:
Drink lots of water throughout the day to keep your mouth moist, wash away food particles and neutralise lingering acid.
Brush your teeth at least twice a day (morning and night) with a fluoridated toothpaste, for around two minutes each time. Don't forget to brush your gums with gentle pressure. The Australian Dental Association explains the most effective way to clean teeth.
Floss your teeth every day, or every second day.
Buy a tongue scraper and gently scrape your tongue every morning to get rid of lingering bacteria. Alternatively, brush your tongue when you brush your teeth.
Consume fewer sugary foods and drinks, because bad bacteria loves sugar as much as your taste buds do. There's nothing wrong with having a sweet treat every now and then, but don't go overboard. The occasional indulgence is fine, as long as you clean your teeth properly.
Eat more nourishing foods to strengthen your teeth against decay. Excellent options include vegetables, fruit, plain yoghurt, eggs, high-quality dairy, sour pickles and fermented foods.
You may be taking medicine that makes your mouth feel even drier. Don't stop this, but ask your doctor if there are any suitable alternatives you could try instead.
Chew sugar-free gum (even while wearing a mask) to stimulate your glands to produce more saliva.
Visit your dentist at least once a year for a check-up and thorough cleaning session.
Wahroonga Dental is open for emergency treatments during NSW lockdown:
As an essential service, we're still seeing patients for urgent treatments. This includes if you've been experiencing dental pain, discomfort when eating, or any other issue that's concerning you. Our team follows all health guidelines and takes every precaution to protect the health of our patients and staff.
Call us on (02) 9489 2829 to find out more or book an appointment online.